"Will my portfolio keep‐up with inflation?" "Is there downside protection in my portfolio?" "How liquid am I?" As a Client Service Director for Vogel Consulting I help my clients answer these questions and many others as we review their asset allocation. Since the market tumult began in 2008, clients are increasingly aware of the international economy, the importance of liquidity and the inevitability of inflation. In an effort to answer our client's questions, and provide a better understanding of their portfolio positioning, we have developed a "different view".
Imagine a map of the United States. Chances are you visualize a political map – seeing a good outline of the lower 48 states, specifically the Florida peninsula and the angling coast of California. Now picture a topographic map of the U.S.A. The contour lines of the Appalachian and Rocky Mountain ranges would be obvious. Just as a topographic map adds detail and understanding to a political map of the country, overlay reports add a new dimension, or different view to an asset allocation. Each overlay provides another view or perspective and helps clients better understand their portfolio, and how it is positioned to take advantage of market opportunities. Our overlay reports supplement, not replace, a client's asset allocation and each of the three overlays we have developed highlight a different characteristic.
A traditional asset allocation shows a pie chart with the various asset classes and gives each asset class a weight based on their size in the portfolio (Figure 1). This information is the basic reporting needed to review, understand, and discuss an asset allocation.
Figure 1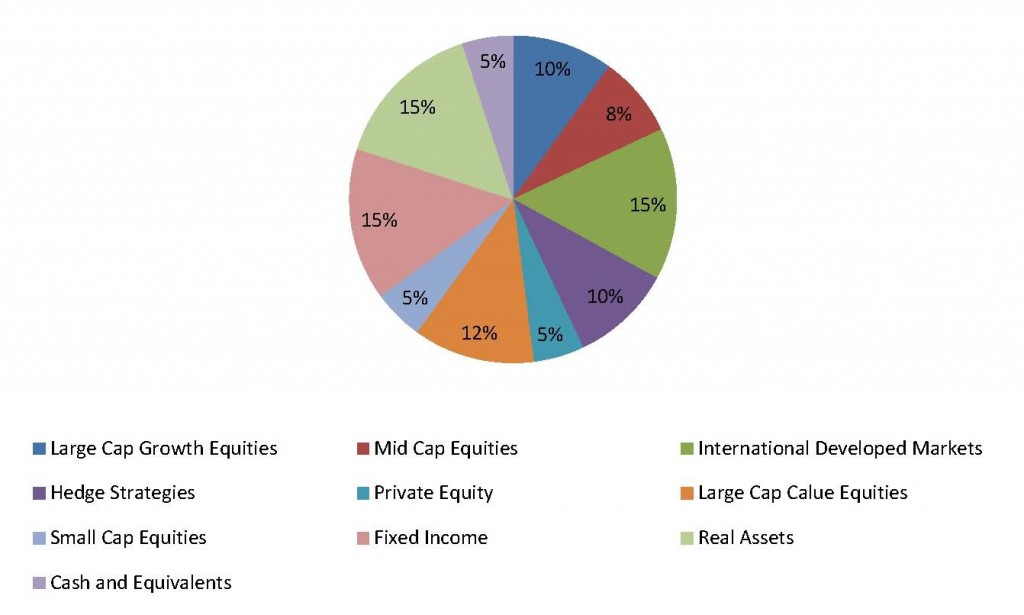 For many people, the analysis of their allocation stops here and moves on to manager performance and benchmark comparisons. But what if it didn't stop? What if other views were provided to add additional perspective to the allocation's holdings?
Long View
To gain a better understanding of the long term characteristics of a portfolio we have developed an analysis to acknowledge three of our client's main goals:
1. Growth – Given my defined risk tolerance, how can I grow my portfolio?
2. Protection – How are my assets positioned/protected for future economic downturn?
3. Inflation – What assets do I hold that will provide protection in an increasing interest rate environment?
By categorizing each manager/asset by the goal it serves, (see table below) clients are able to understand how their portfolio is constructed and positioned for each of the following characteristics.

The pie chart (Figure 2) graphically represents the relative size or percentage of their portfolio dedicated to each of the three characteristics.
Global View
With the increasing globalization of the economy, many money managers have been broadening their holdings to include more international companies. And, while many U.S. investors are U.S. centric in their investments, clients wish to compare themselves to a global allocation. Our second overlay report adds an international dimension to the typical asset allocation.
By considering company headquarter location we have found numerous domestic managers that hold up to 25% of their portfolio in international companies through American Depository Receipts (ADRs). Since ADRs are traded on American stock exchanges, they qualify to be held in many domestic manager portfolios. We have also found international managers are broadening into emerging markets stocks. On a quarterly basis we review each manager and calculate their portfolio composition by domestic, international, emerging market and cash holdings.
Based on the breakdown of each manager's holdings, we summarize each client's allocation. By developing an international overlay report we are able to quantify a portfolio's broader exposure to international and emerging markets holdings and our analysis has allowed clients to recognize they may have 5‐10% more international and emerging market exposure than their traditional asset allocation would indicate (Figure 3).
Figure 3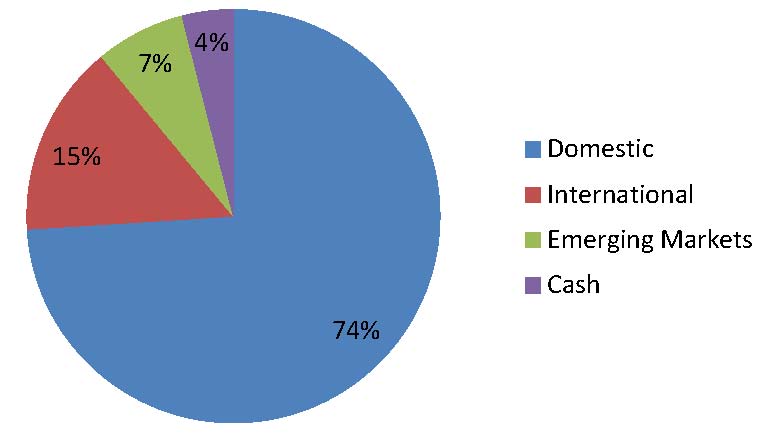 Liquid View
Lastly, our third alternative view adds insight into liquidity. After clients experienced hedge funds limiting liquidity in late 2008 and early 2009, many investors are cautious of having too many assets tied up in illiquid holdings. As a quarterly exercise we review the liquidity requirements of each manager and have developed a liquidity breakdown for each client's portfolio (Figure 4).
Figure 4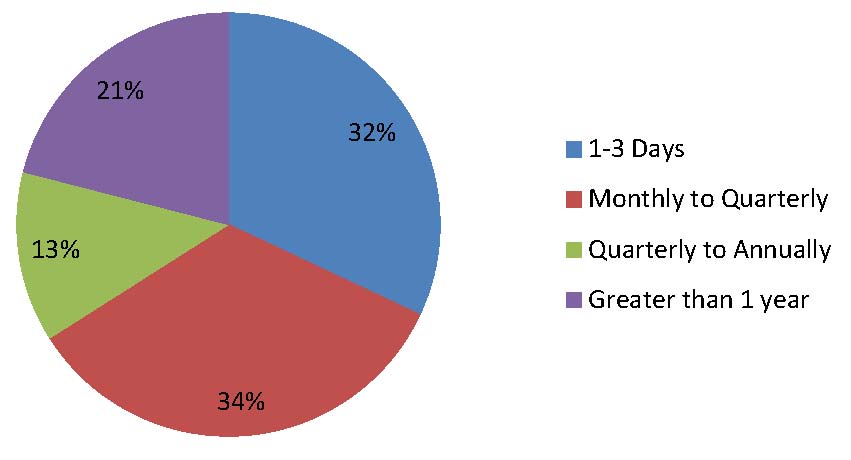 Traditional allocations are a strong starting point, but specific overlays, or different views, allow us to demonstrate how a client's specific allocation will help them achieve their goals. We have received very positive feedback from our clients, as they appreciate the new insight and understanding the overlay reports provide. As always, we are looking at additional analyses to further help clients understand how to structure their portfolio to best meet their strategic goals.
DISCLOSURE
To ensure compliance with Treasury Circular 230, we are required to inform you that any advice concerning tax issues contained in this communication (including any attachments) was not intended or written to be used, and cannot be used, for the purpose of avoiding any penalties that may be imposed by any governmental taxing authority or agency.
Any performance quoted is past performance and is not a guarantee of future results.
Opinions and estimates offered constitute our judgment and are subject to change without notice, as are statements of financial market trends, which are based on current market conditions. We believe the information provided here is reliable, but do not warrant its accuracy or completeness. This material is not intended as an offer or solicitation for the purchase or sale of any financial instrument. The views and strategies described may not be suitable for all investors. This material has been prepared for informational purposes only, and is not intended to provide, and should not be relied on for, accounting, legal or tax advice. References to future returns are not promises or even estimates of actual returns a client portfolio may achieve. Any forecasts contained herein are for illustrative purposes only and are not to be relied upon as advice or interpreted as a recommendation.