May 10, 2022

Monthly Market Summary – April 2022
Geopolitical, macroeconomic, and central bank policy concerns continued to pressure financial markets in April.  Investors continued to wrestle with what the impact of inflation, supply chain issues, and war sanctions will be on global economic growth and corporate earnings.  The COVID outbreak in China added to the supply chain disruptions and concerns about a growth slowdown.  At least 23 Chinese cities, including key industrial hubs, have been under lockdown for weeks.  This not only cut Chinese domestic spending but also restricted industrial production in China and led to production cuts at companies that export to China.  The rally in oil and metal commodities stalled in April largely on worries about falling demand from China.  Comments by Federal Reserve members pointed to a 0.50% increase in the federal funds rate in May and an accelerated pace of balance sheet reduction likely to begin in May.  This talk of more aggressive tightening of monetary policy to combat the high inflation sent bond yields up and prices down.  The latest report on the consumer price index (CPI) showed an increase of 8.5%, the highest gain since 1981.  Likewise, the producer price index (PPI) gained 11.2%, the highest since 2010 and the fourth consecutive double-digit increase.  The higher bond yields and economic growth worries sent stock prices down especially for high growth stocks.  The month ended with stock prices spiking lower.  On the last trading day of the month, the S&P 500 index had its worst one-day return since June 2020.  The higher bond yields also drove the value of the U.S. dollar sharply higher given the wide interest rate differential between U.S. yields and yields in other countries.  The U.S. dollar index rose during the month to the highest level since March 2002.
Major U.S. equity index returns were negative for the month reflecting worries about high inflation, looming aggressive increases in interest rates, and mixed earnings reports especially from big technology, consumer discretionary, and communications services companies.  Most companies that have reported first quarter earnings beat analysts' estimates.  However, many companies have cautioned about the impact of supply and labor shortages on future earnings.  Certain high profile companies had particularly disappointing earnings reports reflecting a pullback from pandemic-era fueled growth in new users and revenue.  Prices for those stocks sank.
Market Indices – April 2022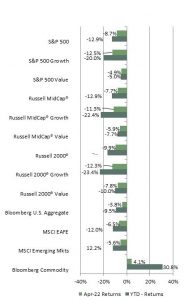 The Russell MidCap index outperformed the S&P 500 index and both outperformed the Russell 2000 index of small capitalization (cap) stocks.  Value stocks outperformed growth stocks by a wide margin in all three indices.  Defensive sectors had the best returns given the "risk-off" sentiment in the markets.  The consumer staples sector was the top performing of the 11 sectors in all three market cap segments.   That sector generated a positive return in the S&P 500 and the Russell MidCap.  The communications services and information technology sectors were among the worst performing sectors in all three indices with a double-digit negative return.  Consumer discretionary also had a double-digit negative return in the S&P 500 index and healthcare posted a double-digit negative return in the mid and small-cap indices.
Both the MSCI EAFE index of developed international country equities and the MSCI Emerging Markets index (EM) outperformed the U.S. equity indices.  The EM index was the performance leader with a return of -5.6%.  Local currency returns were better for both foreign equity indices than U.S. dollar based returns since the dollar appreciated strongly against a broad basket of currencies.  The margin between the local and dollar returns was especially wide for the EAFE index since the dollar reached multi-year highs against the yen, euro, and sterling.  There was little difference between the returns for the growth and value sectors of the EM index, but value outperformed growth by a sizeable margin in the EAFE index.  Consumer staples had the best return in the EAFE index while utilities had the top return in the EM index.  Energy was also a top performer in both indices.  Information technology was the worst performing sector in both the EAFE and EM indices with a double-digit negative return.  In developed international markets, the United Kingdom and the Pacific ex Japan indices outperformed the euro area and Far East indices.  Among emerging markets, the Latin America index fell sharply, down 13%, after being the top performer in prior months.  Certain commodity prices, particularly metals, fell on worries that COVID lockdowns in China will curtail demand.  Stocks in heavy commodity export economies such as Brazil declined in reaction.  Turkey and Indonesia had the best performance with positive returns.
For the second consecutive month, all sectors of the U.S. bond market posted a negative return as bond yields moved up in reaction to more hawkish comments from the Federal Reserve.  The Bloomberg U.S. Aggregate Bond index generated a return of -3.8% for the month.  Bonds with longer times to maturity had the largest negative returns.  The benchmark 10-year Treasury bond yield ended the month at 2.89%.  That compares to a yield of 2.32% at the end of March and 1.52% at year-end 2021.  Reflecting the higher bond yields, the nationwide average mortgage rate continued to rise and moved to over 5%.
The commodity index continued to be the performance leader with a positive return but returns for individual commodities were mixed.  The energy sub-index had the highest return at over 13% mostly due to higher natural gas prices.  Oil prices were volatile during the month.  Oil moved up sharply after OPEC said it cannot make up for the loss of Russian production.  Oil prices moved lower at times on concerns about a drop in demand related to slowing Chinese economic activity.  Late in the month Russia cutting gas flow to Poland and Belarus pushed oil prices back up.  West Texas Intermediate crude oil was priced at $104.69 at month-end.  The grains index also had a strong gain.  Corn and soybean prices rose to the highest level since 2012 when a drought ruined crops.  The precious metals, industrial metals, and livestock sub-indices each posted a negative return.  The price of gold retreated as the dollar strengthened.  Industrial metals prices dropped on demand worries related to COVID lockdowns in China.  The continuing sharp rise in grain prices pressured livestock prices since grains are a major source of food for livestock.
Vogel Consulting, LLC (Vogel) Tactical Recommendations
Equity and bond prices are lower after the steep sell-off so far in 2022.  However, markets will likely remain volatile given the various crosswinds in the near term.  Geopolitical events, fading monetary and fiscal stimulus, high inflation, slowing economic growth from 2021 levels which were buoyed by stimulus policies, and constraints on activity due to COVID control measures are headwinds for earnings and asset prices.  Even so, there are positives.  Various economic reports particularly in the U.S., such as unfilled orders, pent-up demand for travel and leisure spending, strong labor markets, and healthy corporate and consumer balance sheets are supportive for future growth albeit at a more modest pace.
We continue to have a neutral view on growth relative to value preferring to have exposure to sectors benefiting from longer-term secular growth trends along with some exposure to cyclicality.  Our short-term tactical recommendations within the equity allocation are to overweight U.S. equities, underweight international developed equities, and equal weight emerging market equities relative to long-term strategic targets.  The underweight to international developed equities is because that index is likely to continue to face currency impact headwinds.  The U.S. dollar is likely to continue to strengthen relative to the euro given the higher risk to European economic growth from the Russia/Ukraine war impacts and due to the interest rate differential since the U.S. has begun its monetary tightening cycle while the European Central Bank is keeping rates steady for now.  Within our fixed income recommendation, we continue to favor short to intermediate maturities.  We continue to recommend an underweight allocation to hedge funds.  We recommend keeping at least a year of cash reserves to avoid having to raise cash during a sell-off period.
 The statistical information contained in this commentary has been compiled from publicly available sources and is presented to you for your review and for discussion purposes only.  The information contained in this commentary represents the opinion of the author(s) as of its date and is subject to change at any time due to market or economic conditions.  These comments do not constitute a recommendation to purchase, sell or hold any security, and should not be construed as investment advice or to predict future performance.  Past performance does not guarantee future results.
 The statistical information contained in this commentary was derived from sources that Vogel Consulting, LLC believes are reliable, and such information has not been independently verified by Vogel.  Russell Investment Group is the source and owner of the trademarks, service marks and copyrights related to the Russell Indexes.  Russell® is a trademark of the Russell Investment Group.  An index is not managed and is unavailable for direct investment.