September 09, 2016

Monthly Market Summary – August 2016
Early in the month the S&P 500, Dow Jones Industrial Average, and NASDAQ indices each reached new record highs on better than expected economic data and corporate earnings reports along with higher oil prices. The better economic data included the July employment report that showed nonfarm payrolls increased by a better than expected 255,000.  In addition, new home sales rose 12.4% which was a nine-year high and durable goods orders were up a better than expected 4.4%.  Federal Reserve (Fed) chair Janet Yellen gave a much anticipated speech late in the month during the Fed's annual conference at Jackson Hole.  In that speech she said the U.S. economy is "nearing" the Fed's goals of full employment and stable prices.  Yellen's speech and similar comments by other Fed officials led market participants to boost expectations for a fed funds rate increase.  These revised expectations pushed equity and bond prices lower and bond yields higher.  The yield on the 10-year Treasury bond rose to 1.6%, which is at the high end of its recent trading range.
Market Indices – August 2016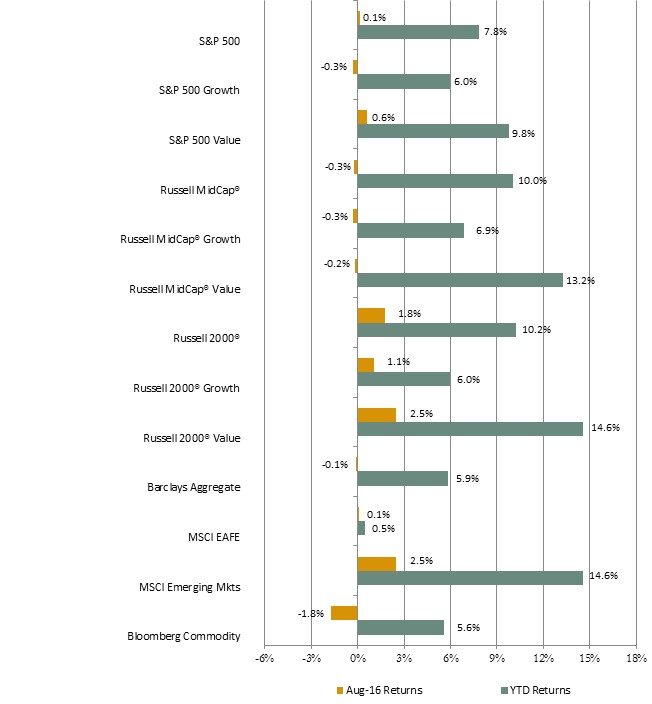 Outside the U.S. more stimulus actions were announced. The United Kingdom (UK) took actions designed to minimize any negative impact on economic growth after the vote to leave the European Union (Brexit).  The Bank of England cut the policy interest rate by a quarter of a percentage point to 0.25%, extended the quantitative easing program, and commenced a plan to buy £10 billion of corporate bonds.  The Reserve Bank of Australia also cut interest rates to a record low of 1.50%.  In yet another effort to lift growth in its economy Japan approved a $274 billion stimulus package.  The package includes standard stimulus measures such as money for infrastructure projects, but also includes measures such as cash payments to low income citizens, more college scholarships, and building more childcare facilities.
Small company stocks were the performance leaders in the U.S. equity market in August.  The Russell 2000® index of small capitalization (cap) stocks had a return of 1.8% compared to returns of 0.1% and -0.3% for the S&P 500 and the Russell MidCap® respectively.  Value stocks outperformed growth stocks across the market cap spectrum.  Investors rotated out of defensive sectors resulting in negative returns for utilities and consumer staples stocks.  Information technology and financials sector stocks were the performance leaders.  Information technology stock prices moved higher on good earnings reports.  The financials sector advanced on expectations that   higher interest  rates will improve margins. Energy also had one of the highest returns for the month boosted by higher oil prices.  The healthcare sector had a negative return hurt by another drug pricing controversy – the EpiPen price gouging accusations against Mylan.
The MSCI Emerging Markets (EM) index outperformed both the U.S. equity indices and the MSCI EAFE index of developed international country equities. The EM index had a return of 2.5% for August.  Asian equity markets were the primary drivers of the strong EM return.  The China index gained over 7% with Korea and Thailand each gaining over 3%.  The EAFE index was essentially flat with a 0.1% gain as returns among regions were mixed.  European stocks gained enough early in the month that major European indices erased the post Brexit vote declines.  The Japanese equity sub-index had a slight gain while other markets in the Pacific region, such as Australia declined.
The Barclays U.S. Aggregate Bond index had a return of -0.1% for the month. Treasury bond yields increased and prices dropped in reaction to comments by Fed officials which suggested the case for an interest rate hike has strengthened due to stronger recent economic data.  Short-term bond yields rose more than longer-term bond yields since short-term rates are more sensitive to changes in monetary policy.  Therefore, the yield curve flattened as the difference in yield between 2-year and 30-year maturity bonds declined.  Corporate bonds, mortgage-backed bonds, and municipal bonds had better returns than Treasury bonds in August.  The Barclays U.S. Corporate High Yield bond index gained over 2% for the month boosted by better economic data and higher oil prices.
The Bloomberg Commodity index posted a return of -1.8% for August. Only the energy related sub-indices posted a gain for the month.  The price of oil advanced over 15% on talk of an OPEC production freeze.  However, oil prices declined into the end of the month on reduced expectations for any OPEC agreement and due to reports of high inventories.  West Texas Intermediate crude ended the month at $44.68 up 8% from the prior month-end.  The grains sub-index fell almost 8% on estimates for high yielding harvests and the strengthening dollar making U.S. grains less competitive in export markets.  The precious metals sub-index declined almost 5% as both gold and silver prices moved lower.
Vogel Consulting, LLC (Vogel) Tactical Recommendations
While there are pockets of improvement, global economic growth, though positive, remains slow and uneven. Bond yields are expected to stay low globally as a result of central bank policies and in the U.S. from increasing demand for our more attractive yields relative to negative yields in many regions.  Asset valuations are generally still near or above historical averages.  In this period of uneven growth, volatile markets, unprecedented central bank policies, and high valuations we continue to recommend remaining invested with both growth and limited volatility strategies along with having adequate cash reserves to avoid having to raise cash in a period of market weakness.
No changes were made to our tactical asset allocation recommendations. We continue to recommend an equal weight position in each equity market sector (U.S. large-cap, mid-cap, and small-cap stocks as well as developed and emerging market equities).  We continue to recommend an equal weight to hedge fund strategies.  We favor hedge fund strategies over fixed income for the lower expected volatility portion of portfolios since bond yields are near historically low levels.  Our fixed income recommendation is to underweight this sector and to maintain a focus on short to intermediate term bonds.  Non-Treasury bonds are favored for the yield advantage they provide compared to Treasury bonds.  Since our expectation is for a moderate rate of inflation to continue, we recommend an equal weight to real assets.  Finally, since we expect that financial markets will experience periods of wide swings up and down in reaction to changes in expectations to Federal Reserve interest rate policy, oil prices, economic data reports, and political news, we continue to recommend using periods of market strength to raise any cash needed to support spending needs over the coming 12-24 months.
The statistical information contained in this commentary has been compiled from publicly available sources and is presented to you for your review and for discussion purposes only. The information contained in this commentary represents the opinion of the author(s) as of its date and is subject to change at any time due to market or economic conditions. These comments do not constitute a recommendation to purchase, sell or hold any security, and should not be construed as investment advice or to predict future performance.  Past performance does not guarantee future results.
The statistical information contained in this commentary was derived from sources that Vogel Consulting, LLC believes are reliable, and such information has not been independently verified by Vogel. Russell Investment Group is the source and owner of the trademarks, service marks and copyrights related to the Russell Indexes. Russell® is a trademark of the Russell Investment Group.  An index is not managed and is unavailable for direct investment.