August 11, 2016

Monthly Market Summary – July 2016
Financial market returns were positive for July with only one major index, the commodities index, posting a negative return.  After the initial reactions late in June and the first days of July, market participants mostly shrugged off concerns about Brexit.  The U.S. Federal Reserve (Fed), the European Central Bank, and the Bank of England each held interest rates steady in their July meetings.  Therefore, investors focused on corporate earnings and economic data reports.  Several high profile companies reported better than expected earnings including large technology companies, banks, and healthcare companies.  Early in the month economic data was mostly positive.  The U.S. employment report showed 287,000 new jobs were added in June which was much improved from the disappointing May report.  Existing home sales rose to a nine-year high with the number of first time buyers making up the highest share of the sales in four years.  Retail sales rose more than expected.  Late in the month some weaker data was reported, most notable was the U.S. gross domestic product (GDP) report.  The first estimate of the second quarter GDP growth rate was 1.2% which was significantly lower than the 2.5% that was expected.  Also, the first quarter GDP growth rate was revised lower.  In spite of mixed date, the positive reports drove stocks higher.  The S&P 500 index had seven record high closing levels during the month.
Market Indices – July 2016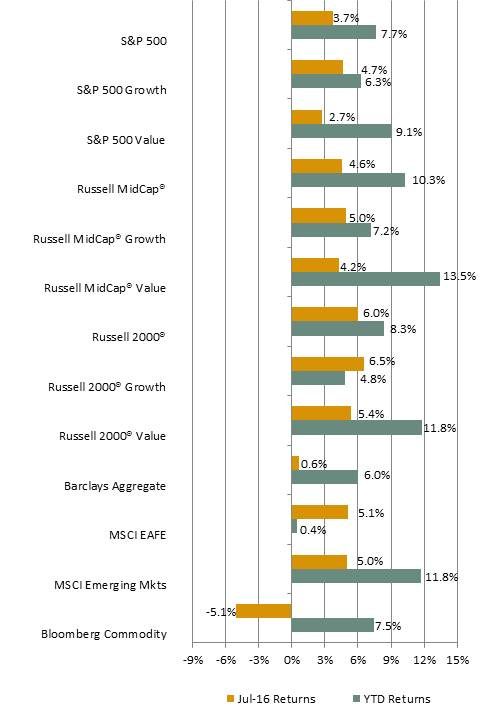 The S&P 500, the Russell MidCap®, and the Russell 2000® index of smaller companies each had a strong return for July.  The S&P 500 and Russell MidCap® respectively recorded their fifth and sixth consecutive positive monthly returns.  In July, the smaller the market capitalization (cap) the higher the return with the Russell 2000® index gaining 6.0%, the Russell MidCap® gaining 4.6% and the S&P 500 gaining 3.7%.  Growth stocks outperformed value stocks across the market cap spectrum since technology and healthcare stocks were the better performers and defensive stocks and energy stocks were the weakest performers.  Materials was another top performing sector as precious and industrial metals prices rose.
Both the MSCI EAFE index of developed international country equities and the MSCI Emerging Markets (EM) index had a return of 5% for July.  Among developed international equity markets, the Pacific ex Japan index had the best return boosted by strong gains in Australia and New Zealand related to the gains in the materials sector.  European stocks rebounded in July after the initial Brexit vote reaction and posted solid returns.  The Europe index gained about 4%.  Among EM regions, the Latin America index had the best return boosted by the 10% return for the Brazil index.  The change in the political situation in Brazil continues to be seen as a positive for that country.  Most countries in emerging Asia had strong returns as well.  China however, with a 3.5% return was one of the weakest Asian markets.
The Barclays U.S. Aggregate Bond index had a return of 0.6% for the month.  On July 6, the 10-year U.S. Treasury bond yield declined to its lowest level ever which was 1.37%.  (Treasury bond prices rise as yields decline.)  Treasury bonds rallied to the record lows due to the relative attractiveness of U.S. yields as the amount bonds around the world trading with a negative yield grows.  As the month progressed the 10-year Treasury bond yield moved modestly higher and prices lower in reaction to strong economic data which increased expectations for an interest rate hike by the Fed.  Yields retreated again after the Fed decided not to raise interest rates at its July meeting and the weak GDP growth rate was announced.  Despite the intra-month moves, the yield was 1.46% at month-end, which was little changed from the end of June.  All sectors of the U.S. bond market including corporate bonds, municipal bonds, and mortgage-backed bonds posted positive returns for the month.  Bonds with the longest time to maturity had the highest returns.
The Bloomberg Commodity index posted a return of -5.1% for July after being the top performing index we track in June.  The precious metals sub-index had a strong positive return for the month boosted by gains of over 9% in silver and almost 2% in gold.  The industrial metals sub-index also had a positive return for the month.  Energy had a double-digit decline since the price of crude oil was down 14% in July and natural gas was down 2%.  Energy stock prices declined on worries about high inventories.  Agriculture prices also were weak.
Vogel Consulting, LLC (Vogel) Tactical Recommendations
While there are pockets of improvement, global economic growth, though positive, remains slow and uneven.  Bond yields are expected to stay low as a result of central bank policy and in the U.S. from increasing demand for our more attractive yields relative to negative yields in many regions.  Asset valuations are generally still near or above historical averages.  In this period of uneven growth, volatile markets, unprecedented central bank policies, and high valuations we continue to recommend remaining invested with both growth and limited volatility strategies along with having adequate cash reserves to avoid raising cash in a period of market weakness.
One change was made to our tactical asset allocation recommendations.  The hedge fund recommendation has been moved to equal weight from overweight due to expectations of muted returns for these strategies.  We continue to recommend an equal weight position in each equity market sector (U.S. large-cap, mid-cap, and small-cap stocks as well as developed and emerging market equities).  Our fixed income recommendation is to underweight this sector and to maintain a focus on short to intermediate term bonds.  Non-Treasury bonds are favored for the yield advantage they provide compared to Treasury bonds.  As our expectation is for a moderate rate of inflation to continue, we recommend an equal weight to real assets.  Finally, since we expect that financial markets will experience periods of wide swings up and down in reaction to changes in expectations to Federal Reserve interest rate policy, oil prices, economic data reports, and political news, we continue to recommend using periods of market strength to raise any cash needed to support spending needs over the coming 12-24 months.
The statistical information contained in this commentary has been compiled from publicly available sources and is presented to you for your review and for discussion purposes only. The information contained in this commentary represents the opinion of the author(s) as of its date and is subject to change at any time due to market or economic conditions.  These comments do not constitute a recommendation to purchase, sell or hold any security, and should not be construed as investment advice or to predict future performance.  Past performance does not guarantee future results.
The statistical information contained in this commentary was derived from sources that Vogel Consulting, LLC believes are reliable, and such information has not been independently verified by Vogel.  Russell Investment Group is the source and owner of the trademarks, service marks and copyrights related to the Russell Indexes. Russell® is a trademark of the Russell Investment Group.  An index is not managed and is unavailable for direct investment.