June 08, 2016

Monthly Market Summary – May 2016
May was another positive month for U.S. equity markets. The S&P 500 index recorded its third consecutive positive monthly return and closed near its all-time high recorded in May 2015.  U.S. equities outperformed international equities as well.  Fixed income markets were mixed with short to immediate Treasury bond yields rising in reaction to the heightened possibility of an interest rate increase by the Federal Reserve (Fed) in June but longer maturity bond yields moved lower.  Commodity markets were also mixed with oil prices rising but other industrial commodities declining.  Economic data reports from around the world mostly continued recent trends with manufacturing and industrial production reports weak and services and housing reports stable to improving.  All eyes turned again to the U.S. Fed after the latest meeting minutes and several comments by Fed governors indicated that a rate hike could come as early as June if economic data hits certain targets.  In Europe the possibility of Britain voting to leave the eurozone in June (referred to as Brexit) was a source of uncertainty for equity, bond, and currency markets.
The U.S. equity indices shown below each had a positive return for May. For the second consecutive month the small-capitalization (cap) index had the best return.  Early in the month more defensive sectors were the better performers on the weak jobs report and some disappointing corporate earnings announcements.  Late in the month more cyclical sectors led the markets due to a shift to more optimistic sentiment on some positive economic data including better than expected new home sales and housing starts and the revision of first quarter gross domestic product (GDP) growth higher to 0.8%.  Some better than expected earnings from retailers Walmart, Costco, and Dollar Tree also provided a boost.  By the end of the month, growth stocks had outperformed value stocks in the large and small-cap sectors and value and growth had similar returns in the mid-cap sector.  Industry sector returns were mixed.  In a reversal of April's results, information technology was the best performing sector and energy was the weakest sector across the market cap spectrum.  The weak performance of energy stocks is noteworthy since oil prices rose during the month.  The information technology sector got a boost from the $1 billion investment in Apple, Inc. by Berkshire Hathaway.
Market Indices – May 2016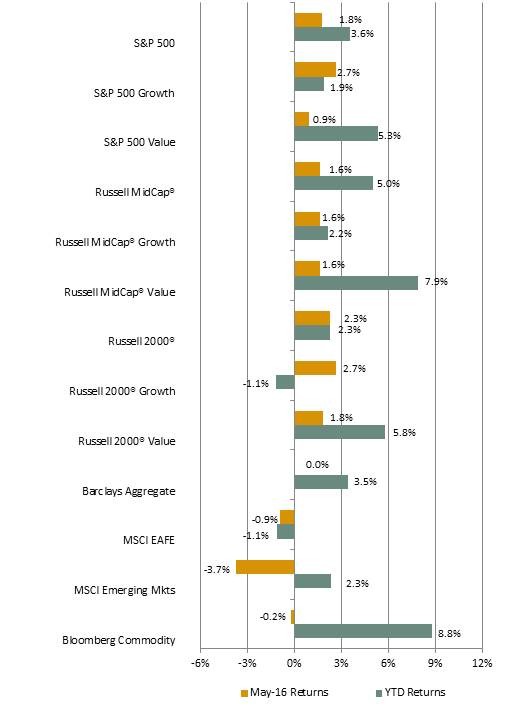 The MSCI EAFE index of developed international country equities and the MSCI Emerging Markets (EM) index each had a negative return for the month on a U.S. dollar basis. Currency had a negative impact on the return on foreign investments for U.S. investors in May since the U.S. dollar moved higher.  After two consecutive months as a top performing country, the Brazil index declined almost 14% and was the poorest performing country index in May.  The previous impeachment rally reversed after the voting to remove President Rousseff began and questions rose about the new acting president.  India was one of the best performing country indices gaining almost 2% in reaction to positive economic data including a solid GDP growth report.  China continues to be a weak market and posted a negative return for the month – both manufacturing and service index reports came in lower again in May.
In developed markets the euro region had the best returns even though most country indices had a negative return. Resolution of another Greek debt crisis was a positive for European equities as a source of uncertainty was removed.  The upcoming Brexit vote has been impacting equity markets both up and down as expectations change on the outlook for a yes or no vote.  In both the EM and developed international indices industry sector results were similar to the U.S. Sectors that had the highest returns in April had among the lowest returns in May and sectors with the best returns in April reversed and posted among the lowest returns in May.  Materials had a sizable negative return that was the lowest return in the EAFE and EM indices as industrial and precious metals prices retreated during the month.  Information technology was a top performing sector in both developed and emerging markets.  Healthcare also rebounded and posted a positive return in the EAFE index in May.
The Barclays U.S. Aggregate Bond index was flat in May. Yields moved slightly higher and prices lower for bonds with maturities up to 10 years after the release of the latest Federal Open Market Committee minutes indicated a June rate hike is on the table depending on the economic data.  Longer maturity bonds had positive returns as the yields on U.S. bonds remain attractive compared to yields in many other countries.  As a result of these market moves, the Treasury yield curve is flattening.  Market participants watch the yield curve because a flat yield curve is often an indication of slowing economic conditions.  The spread between the yield on corporate, mortgage-backed, municipal bonds and Treasury bonds tightened during May on strong demand for the bonds leading to positive returns.
After being the performance leader in April, the Bloomberg Commodity index returned to negative territory with a return for May of -0.2%. The energy and agriculture sub-indices had positive returns.  The price of oil trended higher during the period and even briefly traded just above $50 per barrel.  Supply disruptions due to fires in Canada's oil region and violence in Libya were the main reason for the higher price.  Oil closed the month at $48.95 per barrel which compares to $45.96 at the end of April.  Oil is up over 85% from the low reached in mid-February.  In the agriculture sector both grains and livestock prices moved higher during the May.  The primary drags on the overall index were the precious and industrial metals sectors as prices fell sharply.  Silver which had been up close to 30% for the year through the end of April declined 10% in May.  Gold declined about 6%.  The price of gold was $1,219 at the end of May but had traded as high as $1,300 during the month.
Vogel Consulting, LLC (Vogel) Tactical Recommendations
Because the economic and financial market conditions are generally unchanged from the prior month-end, no changes were made to the tactical asset allocation recommendations during May. We continue to recommend an equal weight position in each equity market sector (U.S. large-cap, mid-cap, and small-cap stocks as well as developed and emerging market equities).  Corporate earnings and economic data have been mixed but the U.S. and other major regions are still seeing economic growth, albeit at moderate levels.  Continued low interest rates and other accommodative monetary policies may help keep growth in a positive trend.  However, valuation metrics such as price/earnings ratios on stock indices for different regions and market cap sectors are near or above historical averages which lead us to remain neutral on U.S. and global stocks compared to long-term strategic targets.  We continue to favor hedge fund strategies over fixed income for the lower expected volatility portion of portfolios since yields are near historically low levels.  Our fixed income recommendation is to underweight this sector and to maintain a focus on short to intermediate term bonds.  Non-Treasury bonds are favored for the yield advantage they provide compared to Treasury bonds.  As our expectation is for a moderate rate of inflation to continue, we recommend an equal weight to real assets.  Finally, since we expect that financial markets will experience periods of wide swings up and down in reaction to changes in expectations to Federal Reserve interest rate policy, oil prices, and economic data reports, we continue to recommend using periods of market strength to raise any cash needed to support spending needs over the coming 12-24 months.
 The statistical information contained in this commentary has been compiled from publicly available sources and is presented to you for your review and for discussion purposes only. The information contained in this commentary represents the opinion of the author(s) as of its date and is subject to change at any time due to market or economic conditions. These comments do not constitute a recommendation to purchase, sell or hold any security, and should not be construed as investment advice or to predict future performance.  Past performance does not guarantee future results.
 The statistical information contained in this commentary was derived from sources that Vogel Consulting, LLC believes are reliable, and such information has not been independently verified by Vogel. Russell Investment Group is the source and owner of the trademarks, service marks and copyrights related to the Russell Indexes. Russell® is a trademark of the Russell Investment Group.  An index is not managed and is unavailable for direct investment.