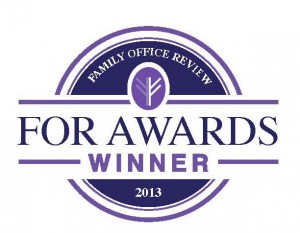 Vogel Consulting, an independent multifamily office, was honored by Family Office Review magazine at their second annual awards ceremony, held at Chicago's Waldorf Astoria Hotel on June 5, 2013.
This year's event honored nominees in eight different categories, including best legal and technology service providers, trust company, Chief Investment Officer, Chief Executive Officer and Single and Multifamily Office of the Year. Last year, Rhona Vogel,
Founder and Chief Executive Office of Vogel Consulting, was named to the shortlist of nominees for MFO CEO of the Year.
Upon the announcement of this year's win, "I am truly honored", said Vogel. "All the nominees for MFO of the Year are first‐class organizations." Vogel stated, "As we celebrate our 20th anniversary, this award is a great reminder that hard work and dedication to the marketplace really do pay off. It's easy to get wrapped up in the day‐to‐day business of helping families. Without a great team behind me, we couldn't serve our clients like we do."
Family Office Review was founded in 2011. "Our mission is to be the keepers of the intellectual and social capital for this global community, and serve as a 'superconnector' to help families, family offices, wealth advisors and service providers find each other and create a meaningful dialogue."